PIONEER OF BODYBUILDING – Success Stories
Your mouth is a creative weapon, it's not a tool for executing excuses. The first sign of a loser is an excuse. Successful people take full responsibility and deliver.
MANTRA FOR SUCCESS!
To be successful you must follow your path, with hard work and determination. You must not do something, because others are doing it. You must not do something, because others are not doing it. You must do what matters to you if your heart's not in something you can't be successful!
We have come up with the list of 3 pioneers in the Fitness industry, who changed the perspective and vision of youngsters:
Arnold Schwarzenegger :
There are many famous success stories in the field of fitness but the one figure whose story surpasses all and deserves to be mentioned first is none other than Arnold Schwarzenegger.
Arnold, born on 30th July 1947 is an Austrian-American actor, filmmaker, businessman, author, former politician, and a professional bodybuilder. Arnold served as 38th Governor of California from 2003-2011. He began lifting at the age of 15 and won the title of Mr. Universe at the age of 20 before winning the title of Mr. Olympia, seven times.
Arnold's first break into the acting career through the movie Conan The Barbarian(1982).He also starred in various famous action and sci-fi movies like The Terminator series, Commando(1985), The Running Man(1987), Predator(1987), etc.
Arnold was called 'The Austrian Oak' in his bodybuilding days, 'Arnie' or 'Schwarzy' in his acting days and 'The Governator' in his political career.
"Strength does not come from winning. Your struggles develop your strengths. When you go through hardships and decide not to surrender, that is strength"

Arnold Schwarzenegger
Ronnie Coleman :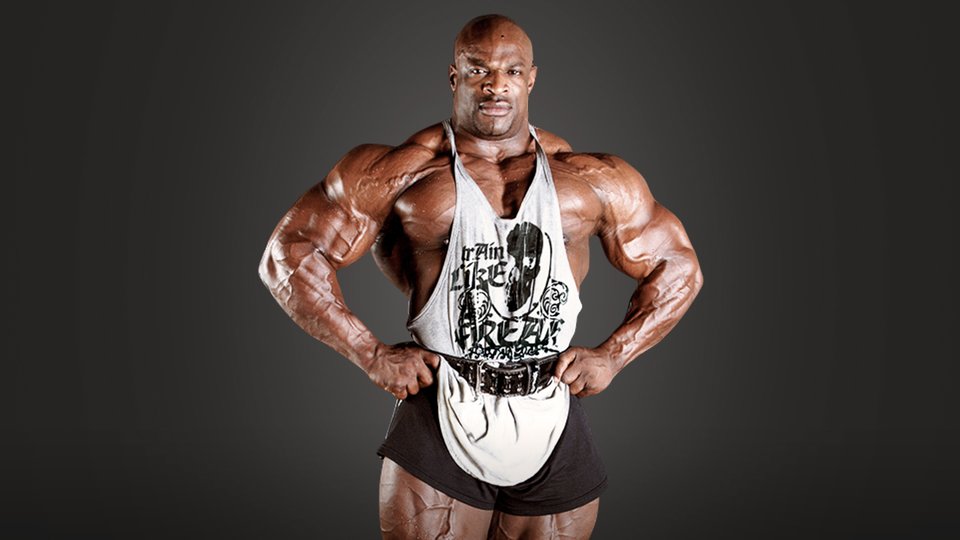 The second name on the list has to be Ronnie THE LIGHTWEIGHT Coleman. Born on 13th May 1964 in Monroe, Louisiana, Ronnie is an American retired professional bodybuilder. After graduation, Ronnie failed to find any employment and thus ended up working at a Dominos Pizza outlet where he used to eat the complimentary pizza daily due to the financial crisis. After that, he also served as a police officer where one of his colleagues suggested that he should join a gym, which later changed his life. Ronnie won the title of Mr.Olympia, eight times in a row(1998-2005). He also has most wins as an IFBB Professional with 26 titles to his name. Coleman's growth in the field of bodybuilding led to many product endorsements and other opportunities in his career.
He launched three training videos: The Unbelievable, The Cost of Redemption, and On The Road, in which he explained to the experienced bodybuilders about overexertion and proper form.
He also launched Ronnie Coleman Signature Series, a brand for the production of sports nutrition material.
Ronnie's heavy weight lifting took a toll on his body, due to which he had multiple surgeries, some of which resulted in such bad outcomes that he might never walk unassisted again.
But Ronnie has no regrets since he was determined to be at the top, no matter the cost.
"It's important to have people believe in you. With this support what you can achieve is limitless"

Ronnie Coleman
Leslie Kai Greene :
Born on 12th July 1975 Kai Greene is an American IFBB professional bodybuilder, personal trainer, artist, and actor.
Since he was six years old, Kai was raised in foster care and residential treatment centers in Brooklyn. As per his online biography, in seventh grade, his rapid physical growth caught the attention of his English teacher and since his behavior in school was troublesome, he was introduced to teenage bodybuilding.
Kai won NPC in 1999 and 2004, New York Pro Championship in 2011, Arnold Classic in 2009, 2010, and 2016 and came second in Mr.Olympia in 2012,2013, and 2014.
"The person with the biggest dreams is more powerful than the person with all the answers"

Kai Greene