5 Easy Home Workouts in The Times of Coronavirus
Owing to the global outbreak of Coronavirus Pandemic or COVID-19, life has come to a standstill. Since gyms are closed and there is no way you can step outside your home, maintaining fitness has become a difficult task. But if you are really determined towards maintaining a healthy lifestyle, you can choose to workout from the comfort of your home.
Home workouts are great for you. We are here to tell you that even without fancy machines, you can manage to lose a few pounds, and maintain a flawless flat stomach. At a time when the entire world is breaking apart, it's necessary to keep your health quotient high.
Here are 5 workouts you can do at home during the Coronavirus Pandemic.
1. Squat
Squats are perhaps the easiest workout, once you get the hang of it. Squats emphasize on working on the lower parts of your body. Join your fists, and try to sit on an imaginary chair. As you are doing this, try to push your hips backwards. Squats have numerous benefits. They strengthen your muscles, increase your flexibility, and are extremely effective for burning fat. Try to do 10-15 squats a day, and once you get accustomed to it, you can even go up till 20.
2. Pushups
Pushups are another great exercise you can easily do at home. A pushup is a full-body workout. They are great for strengthening your lower back muscles, building muscle density, toning your upper body and hands, and also at achieving enviable abs. To do a pushup, lie on the ground, facing the ground, and support yourself with your arms. Make sure your elbow is not bending. Then, slowly try to bend your elbow and move closer towards the ground, and get back to your previous position again. You can begin with 10-15 pushups a day and slowly increase your intensity.
3. Lunges
The lunge is an excellent weight training exercise that you must include in your home workout routine. To do a lunge, you basically have to position yourself as if you are proposing someone on bended knees. Both your knees should form a 90° angle. While doing this, don't forget to keep your hands on your hips. Lunges reduce body fat, strengthen your core, give you toned legs, and also give you a great posture. A set of 8 to 12 reps for each leg works great for a beginner, and you can increase the number each day.
4. Plank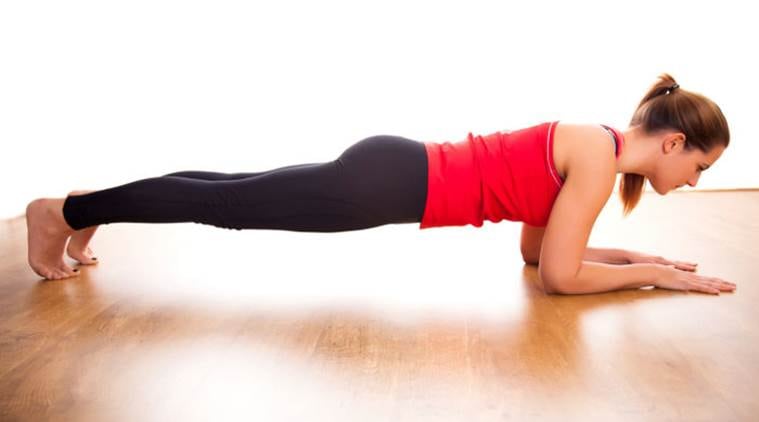 The most common type of plank is when you support your body using your forearm. Position yourself as if you are about to do a pushup, and use your forearm to maintain your balance. Make sure your body forms a parallel line with the ground. Now hold this position for as long as you can, at least 20 to 30 seconds in the beginning. As easy as it may sound, you may feel a strong burning sensation in your arms and stomach. Planks are amazing for getting a flat belly, strengthening your arms, and also for reducing back pain.
5. Crunches
For doing crunches, first, lie down on your back and fold your knees together. Put your hands at the back of your head, and rise up to reach your knees using your head. However, make sure you do not put any pressure on your neck. You can also choose to keep your arms across your chest while doing crunches. Crunches are great for you if you are trying to attain a flat stomach. You will get flexible muscles and will burn a lot of unwanted fat in a short time.
Keeping your will strong in these trying times is very important. With the world facing a huge crisis, one should try to be the best self possible. Exercising at home gives you the perfect opportunity to maintain social distancing while taking care of your body and mind.